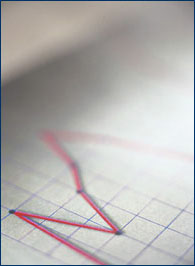 Trade deficit shrinks, retail sales up

Economic news has been gloomy lately, but this week there were some encouraging signs. Reports showed better-than-expected retail sales and a reduced U.S. trade deficit. Still, in Senate testimony, the Federal Reserve chairman described the economy as "sluggish," and he also left the door open to additional cuts in the federal funds rate. On Wednesday, President George W. Bush signed into law a $168 billion package aimed at stimulating the economy through tax rebates. For the week, the S&P 500 Index rose 1.4% to 1,350 (for a year-to-date total return of –7.8%). The yield of the 10-year U.S. Treasury note rose 12 basis points to 3.76%.
U.S. trade deficit improves

The U.S. trade deficit narrowed 7.0%, to $58.8 billion, in December (from $63.1 billion in November). Analysts had expected a trade deficit of $61.6 billion. Exports rose by $2.2 billion, while imports declined by the same amount. The weakness of the dollar relative to other currencies was credited with helping to cut the trade deficit. For the year, the trade deficit declined by $46.9 billion, or 6.0%.
Retail sales rebound

Retail sales climbed 0.3% in January, recovering from a 0.4% drop in December. Analysts had expected a 0.3% decline. Gas stations had the strongest growth, with sales up 2.0%. Sales of automobiles and parts were up 0.6%. Excluding gasoline and autos, however, sales were unchanged.
Stimulus package enacted, rebates to come
President Bush signed an economic stimulus package that provides tax rebates to millions of households. Many single filers will receive $600, while many married couples will get $1,200. The rebate amounts, however, begin to phase out for individuals with incomes over $75,000 and for married couples with incomes over $150,000. The IRS will start mailing rebate checks in May.
Fed chairman: Further rate cuts possible
In testimony to the Senate Banking Committee on Thursday, Federal Reserve Chairman Ben S. Bernanke said, "Downside risks to growth remain, including the possibilities that the housing market or labor market may deteriorate to an extent beyond that currently anticipated." The Fed is open to further reductions in the federal funds rate "as needed to support growth," he said. Mr. Bernanke also said he expects "a somewhat stronger pace of growth starting later this year" as the effects of the stimulus package and Fed rate cuts take hold. Since September, the Fed has reduced the federal funds rate, which greatly influences the cost of borrowing for consumers and businesses, by 2.25 percentage points.
Business inventories head higher
December's business inventories grew 0.6%, boosted by increases in the manufacturing and wholesale sectors. Retail inventories nudged down 0.1%, fueled by a 1.6% slide in auto inventories. Excluding autos, retail inventories were up 0.7%.
Industrial production ekes out a gain

Industrial production in January inched up 0.1%. Manufacturing sector output was unchanged, while utility output climbed 2.2%. Capacity utilization in the industrial sector was 81.5% compared with the historical average of 81.0%.
The economic week ahead

Next week's reports will include a reading on the outlook for the economy with the release Thursday of The Conference Board's index of leading economic indicators. Also due are the latest reading on the Consumer Price Index (Wednesday), a report on new residential construction (Wednesday), and the minutes from the January meeting of the Federal Open Markets Committee (Wednesday).